2017 Red Dot Awards: triple victory for Kia design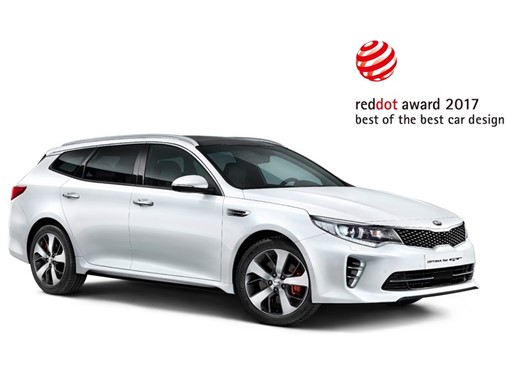 Kia receives trio of design awards - Optima Sportswagon, Niro and new Rio
The Optima Sportswagon wins 'Red Dot: Best of the Best'
18 Red Dot Award wins for Kia since 2009
​
Kia has triumphed again in the Red Dot Awards, with another triple design win. The Optima Sportswagon, hybrid crossover Niro and the all-new Rio won in their respective categories. The Optima Sportswagon won the competition's highest 'Best of the Best' distinction for ground-breaking design, while the Niro received praise for its attention to detail.
The Optima Sportswagon continues the success of its sedan predecessor, which also won the 'Best of the Best' award in 2016 – as did the previous generation in 2011. The 2017 trio of victories adds to Kia's continuing success, having now won an impressive 18 Red Dot Awards since 2009. The awards follow on from Kia's triple iF Design Award win earlier in the year.
"The design of the three models that have been honoured with the Red Dot Award was the result of the very close collaboration between our design centers in Korea, Germany and the United States. Our global design team has every right to be proud of this new triple triumph as it underlines Kia's high design quality, which is unanimously recognized by experts", says Peter Schreyer, President and Chief Design Officer of Kia Motors Corporation. "The fact that we have succeeded in winning the 'Red Dot: Best of the Best' for the third time in succession with the Kia Optima is proof of the continuity of these high design standards."
The Optima Sportswagon, Kia's first-ever D-segment tourer engineered exclusively for the European market, offers a striking exterior design and high quality interior, with the added practicality and appeal of a tourer bodystyle.
The all-new Rio also sees distinct changes to its profile, offering buyers a bold new design and a modern, efficiently-packaged cabin with the latest infotainment and safety technologies. The longer bonnet and more vertical C-pillar give the new car a more purposeful and aggressive stance, with a driver-orientated dashboard which provides an innovative and ergonomic design.
The Kia Niro marries the practical advantages and aesthetic appeal of a compact crossover with a sleek appearance, differentiating it from more conservatively designed hybrid models, and giving the car a unique presence as the world's first hybrid crossover.
The Red Dot Awards: over 5,500 products from 54 countries submitted
Since launched in 1955 by the Design Centre of North Rhine-Westphalia the Red Dot Awards has become one of the most prestigious design competitions worldwide. The judging panel comprises of 39 expert independent designers, design professors and trade journalists from all over the world.
The Red Dot Awards are presented in the three categories (Product Design, Communication Design and Design Concept), and are judged on criteria such as degree of innovation, formal quality, functionality and ecological compatibility. In 2017 companies from 54 countries registered more than 5,500 products.
The official presentation of the Red Dot Awards will take place on 3 July 2017 in Essen, Germany at the Aalto Theater, an opera house designed by Alvar Aalto.