Christopher Walken adds "Pizzazz" to Kia Motors' Super Bowl commercial for the All-New Optima Midsize Sedan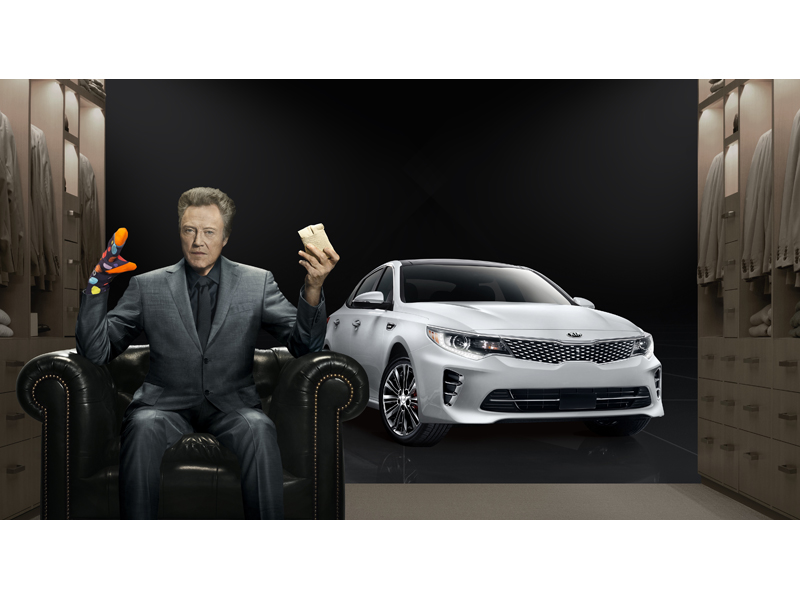 Kia is the First Brand to Utilize a New Technology Solution from Influential That Taps IBM Watson for Influencer Identification as Part of Multifaceted Marketing Campaign
· Extended cut of "Walken Closet" can be viewed now at YouTube.com/Kia; 60-second broadcast version will debut during the fourth quarter of Super Bowl 50
· #AddPizzazz social media campaign includes partnerships with Mobile First influencer platform Influential, social media creator network Niche, and lifestyle apparel brand Stance, to engage creators and generate content across a variety of channels
IRVINE, Calif., February 2, 2016 – There's no one quite like Christopher Walken – he is an original. And in Kia Motors America's (KMA) 2016 Super Bowl commercial, the Academy Award-winner employs a colorfully stylish sock to demonstrate how the next generation Optima stands out in the midsize sedan segment filled with entries that look and drive the same.
Premiering today on YouTube.com/Kia – and set to air in the fourth quarter of the big game – "Walken Closet" is the centerpiece of Kia's multiplatform campaign spotlighting the all-new 2016 Optima as the vibrant alternative for those searching for more in a vehicle segment whose hallmarks are basic, boring and uninspired. As Walken explains in the spot, "There are two kinds of people in this world. Those who are content to blend in … then there are those who expect more. They're exciting. They have pizzazz."
"No one is cooler or as instantly recognizable as Christopher Walken, and on advertising's biggest stage Kia is out to show the world the all-new Optima delivers a level of refinement and sophistication unlike anything else in the midsize segment," said Michael Sprague, chief operating officer and EVP, KMA.
Before and after the Super Bowl, the fully integrated campaign – created by David&Goliath, KMA's advertising agency of record – brings the spirit of "Walken Closet" to life across multiple channels and breaks new ground in digital engagement, as Kia is the first brand to utilize a new technology solution from Influential, a Mobile First influencer platform, using IBM Watson to connect brands to some of the most highly engaged influencers on social media.
By tapping into IBM Watson's Personality Insights API, Influential helped Kia select and activate the most relevant social media influencers for the #AddPizzazz campaign. Influential has gone beyond assessing typical metrics (like demographics and social reach) and is now able to analyze unstructured data pulled from an influencers' social media feeds. This technology has enabled Kia to identify influencers based on previously hard-to-measure metrics – like how they are perceived by their followers and how well their specific personality fits the personality of the brand.
In the weeks leading up to the Super Bowl, nearly 100 of these influencers received a pair of the colorful Stance socks featured in "Walken Closet" and were encouraged to share how they "add pizzazz" to their lives on their social media channels. The content was then pulled into Kia's Tumblr page, allowing people to find, connect, create and share additional content. In addition to the individuals Influential identified by personality, social media talent agency, Niche, and lifestyle apparel brand, Stance, also helped identify and engage select influencers.
"2016 marks Kia's seventh straight appearance in the Super Bowl, and each year our goal is to deliver something upbeat, fun and memorable that aligns with Kia's forward-thinking vision," said Sprague. "We are never afraid to challenge conventional thinking and go our own way, and our #AddPizzazz efforts are the latest example of what makes Kia, and the Optima, stand out."
As part of the campaign, beginning on Wednesday, February 3, consumers can download a $25 Visa® pre-paid card test drive voucher at Kia.com that is redeemable after eligible consumers visit a Kia dealership and complete a test drive of the all-new 2016 Optima[1].