19-APR-2017

IRVINE, Calif.
Four Kia Vehicles named among Best Electrified and "Eco-Friendly" Offerings by Kelley Blue Book's Kbb.com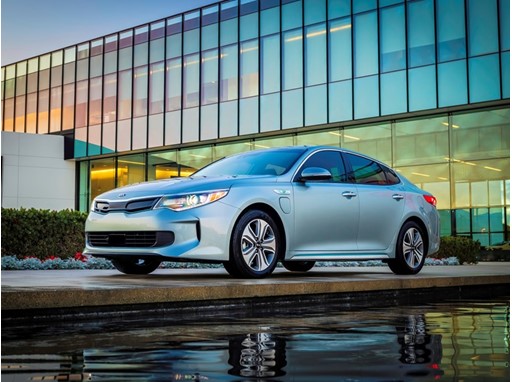 Editors' List Names Cars "Stellar on Fuel Economy at Affordable Prices"
Kia Niro and Kia Optima Hybrid ranked among 10 best hybrid cars under $40,000; Optima PHEV makes list of best plug-in hybrid cars
Kia Soul EV named one of the five best electric cars under $40,000
As Earth Day 2017 approaches, four vehicles from Kia Motors America's (KMA) EcoDynamics line-up have been recognized by editors of Kelley Blue Book's KBB.com as top picks among "eco-friendly" cars under $40,000.  The trusted consumer website highlights vehicles with a variety of alternative-fuel powertrain configurations that can still accommodate the lifestyle and budget of many new car shoppers.
The 2017 Niro, offering an EPA estimated 52 mpg city/49 highway/50 combined for the FE trim
[i]
, and 2017 Optima Hybrid were named on the list of the 10 best hybrid cars under $40,000, while the 2017 Optima PHEV, with an EPA-estimated 29 miles of electric range
[ii]
, ranked among the top plug-in hybrids under $40,000.  The 2017 Kia Soul EV made the list of five best electric cars under $40,000.
"We're very proud of the strides the Kia brand has been making to achieve its goal of increasing electrification and improving overall fuel economy by 2020," said Orth Hedrick, vice president, Product Planning, KMA.  "Having four of our vehicles recognized by Kelley Blue Book as top 'eco-friendly' choices validates our priorities to the environment as well as our efforts to maximize affordability." 
___________________________________________

[i]
Based on EPA estimates. Actual mileage will vary with options, driving conditions, driving habits and your vehicle's condition. Niro EPA estimated MPG city/highway/combined FE 52/49/50, LX 51/46/49, EX 51/46/49, Touring Launch 46/40/43, Touring 46/40/43. Quantities are limited.
[ii]
Based on a fully charged battery pack.  Battery capacity will decrease with time and use.