13-OCT-2016

IRVINE, California
Kia Motors America and B.R.A.K.E.S. Kick Off National Teen Driver Safety Week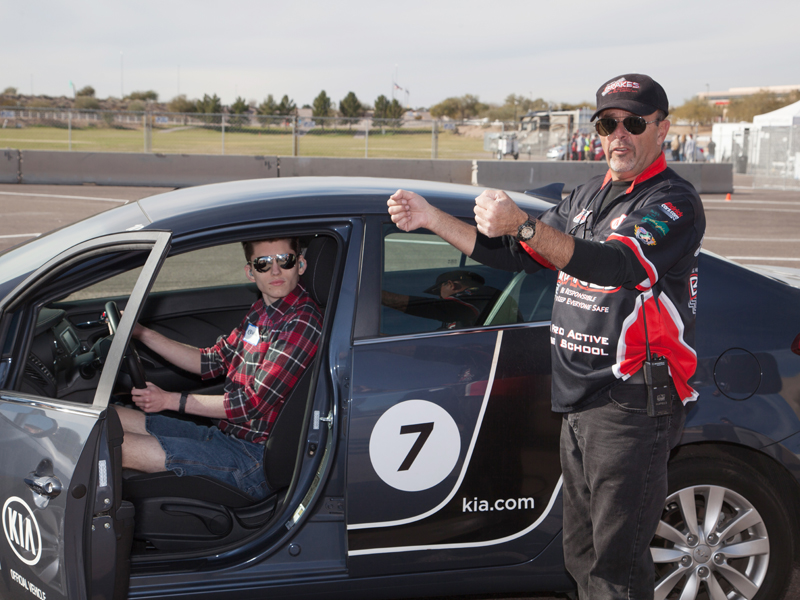 B.R.A.K.E.S. Free Pro-Active Teen Driving Program Provides Advanced Safe Driving Skills
Teens who graduate from B.R.A.K.E.S. are approximately 64 percent less likely to get into a car crash within the first three years of driving
Events coming to Washington, D.C.; Florida; New Jersey; Michigan and Tennessee
IRVINE, Calif., October 13, 2016 – B.R.A.K.E.S. (Be Responsible and Keep Everyone Safe), a non-profit that conducts free defensive driving classes for teens and their parents in cities nationwide, will come to the D.C., area for the first time on Oct. 15 & 16.  The classes, utilizing a fleet of vehicles provided by Kia Motors America (KMA), will serve as the unofficial start of National Teen Driver Safety Week, Oct. 16-22, an initiative designed to educate teen drivers on best practices to stay safe behind the wheel. The B.R.A.K.E.S. classes will be held at the Rosecroft Raceway in Fort Washington, Maryland.  Registration for the lifesaving instruction nationwide is available at PutOnTheBrakes.org/Schedule.
Participating teens and their parents will receive hands-on defensive driving education from B.R.A.K.E.S.' team of highly skilled professional instructors, which includes current and former race car drivers, stunt drivers and law-enforcement training officers.  Instruction includes a distracted driving course, emergency braking practice using anti-lock braking systems, evasive maneuvering and skid-control.  The program adheres to a low three-to-one student-to-teacher ratio to ensure personal attention is provided to every driver.  Parents also participate in the courses to ensure proper driving techniques are reinforced following the training.
"Car crashes are the number-one cause of death among teens in this country, and we started B.R.A.K.E.S. eight years ago to deal with this nationwide epidemic," said Doug Herbert, who founded B.R.A.K.E.S. in 2008, after he lost his two young sons in a tragic car crash. "After years of hard work, we recently trained our 20,000th student, and the program continues to build momentum. We're thrilled to be able to bring B.R.A.K.E.S. to our Nation's Capital for the first time, and to be part of National Teen Driver Safety Week, which will help educate even more teens and prepare them for emergency situations that they'll face on the roads."
As the Official Vehicle and presenting sponsor of the B.R.A.K.E.S. Teen Pro-Active Driving School, Kia provides a fleet of more than 44 vehicles.  With Kia's support, B.R.A.K.E.S. continues to increase the number of schools offered and expand into new markets.
"Kia places a priority on vehicle safety, and our partnership with B.R.A.K.E.S. reflects our commitment to keeping drivers safe on the road, which begins with practical, hands-on driving experience," said Michael Sprague, chief operating officer and EVP, KMA.  "The B.R.A.K.E.S. program has been proven to improve driving skills and help teens make better decisions when behind the wheel."
To finish out the 2016 calendar year, additional B.R.A.K.E.S. courses will be held in major east-coast markets, including: Orlando, Florida; Englishtown, New Jersey; Hazel Park, Michigan; Concord, North Carolina; and Knoxville, Tennessee.  Full details for each upcoming B.R.A.K.E.S. course can be found by visiting
putonthebrakes.org
.
The four-hour B.R.A.K.E.S. programs begin with a classroom session followed by behind-the-wheel driving exercises, including panic braking, crash avoidance and car control, and distracted driving avoidance, all free of charge and taught by professional instructors.
The B.R.A.K.E.S. training curriculum includes the following:
Crash Avoidance/Slalom:  This forces students to make a split-second decision to execute a quick, evasive lane change when encountering an unexpected object without losing control of the vehicle.  Students must navigate their vehicle around cones while focusing on weight transfer, hand positioning and eye scanning.
Distracted Driving:  The course demonstrates the danger that cell phones, text messaging, and other distractions can pose while driving.
Drop Wheel/Off Road Recovery:  The drop-wheel recovery course teaches students how to effectively recover when one or more of their wheels veers off the road surface and onto the shoulder, regaining control of the car and safely returning to the roadway.
Panic Stop:  The panic-stop course instructs students on proper braking techniques to help stop a vehicle in the shortest distance possible while maintaining control.  Students and their parents experience firsthand the pulsating brake pedal effects of Antilock Brake Systems (ABS) and how to control the vehicle when ABS is engaged.
Car Control and Recovery:  A wet skid pad simulates wet-road conditions.  Students learn how to recover from both oversteer (rear wheel) and understeer (front wheel) skids.
Other learning experiences vary by school but can include an eye-opening view from the driver's seat of a big-rig truck with a discussion about safe zones and blind spots, as well as demonstrations from police and fire-rescue agencies.