Kia Motors America and B.R.A.K.E.S. Teen Defensive Driving School Expand Midwest Training Schedule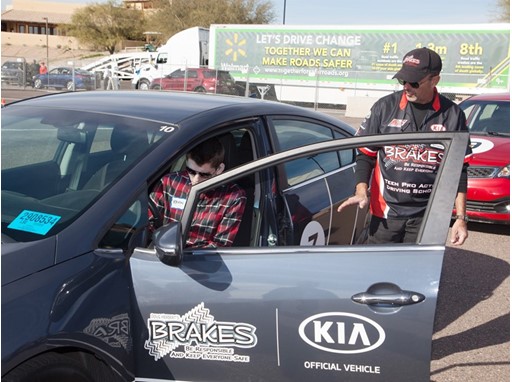 Fleet of Kia Vehicles Utilized to Teach Teens and Their Parents Responsible Driving Habits
Teens who graduate from B.R.A.K.E.S. are 64 percent less likely to be in a crash in their first three years of driving 
Kia Soul, Forte and Rio models used for hands-on instruction
Kia Motors America and B.R.A.K.E.S. (Be Responsible and Keep Everyone Safe) are expanding the number of free defensive driving classes offered in the Midwest.  Working with B.R.A.K.E.S., Kia aims to reduce the high rate of teens involved in motor vehicle crashes.  B.R.A.K.E.S. has provided training for more than 30,000 teens and their parents nationwide since the program was founded in 2008.  Research shows that teens who complete the B.R.A.K.E.S. program are 64 percent less likely to be in a crash in their first three years of driving1.
Midwest-based Kia Dealer Marketing Groups – with additional support from the Kansas and Missouri Departments of Transportation and other area businesses – have worked together to bring B.R.A.K.E.S. classes to Warrensburg, Missouri (Sept. 15 and Sept. 16); Topeka, Kansas (Sept. 22 and Sept. 23); Detroit (Sept. 29 and Sept. 30); Chicago (Oct. 6 and Oct. 7); Kansas City, Kansas (Oct.. 27 and Oct. 28); St. Louis (Nov. 3 and Nov. 4); Cincinnati (Nov. 10 and Nov. 11) and Cleveland (Nov. 17 and Nov 18).  To register for a class or see the upcoming schedule nationwide, visit
https://putonthebrakes.org/shop
.
"Kia is committed to safer driving and a key component is practical, hands-on advanced education to equip drivers with the knowledge and experience needed for dealing with real-life driving situations," said Saad Chehab, vice president, Marketing Communications, Kia Motors America.  "We continually strive to advance vehicle safety through engineering, but safety features alone do not make for a safer driver. The B.R.A.K.E.S. program helps Kia advance those values by providing teens and their parents with tools to make smart decisions while on the road."
Kia serves as the Official Vehicle and presenting sponsor of B.R.A.K.E.S.  Kia's support helps B.R.A.K.E.S. offer free training for all attendees by offsetting costs through a financial donation and a 44-vehicle fleet, including Soul, Rio and Forte models.
"The support Kia and its dealers have provided for the B.R.A.K.E.S. program is invaluable," said multi-time-Top-Fuel-drag-racing-champion-turned-road-safety-advocate Doug Herbert, who founded the charity after the tragic loss of his two teenage sons in a car crash.  "Car crashes are the number-one cause of death among teens, but working with Kia and our other supporters to continue to expand our schedule of schools, we're confident that we can help prevent injuries, save lives and make our roads safer for everyone."
Advanced Driver Training
B.R.A.K.E.S. provides participating teens and their parents with free hands-on, advanced driver training taught by professional instructors, including current and former members of law enforcement, professional racers and stunt drivers.  B.R.A.K.E.S. maintains a low three-to-one student-to-instructor ratio to maximize educational effectiveness.
Each school includes four hours of training, starting with a short, 45-minute classroom presentation followed by nearly three hours behind the wheel of new Kia vehicles. The program includes distracted driving awareness, panic braking, drop-wheel/off-road recovery, crash avoidance and car control/skid recovery – all among the biggest causes of crashes for new drivers.  Other educational elements often include 'Big Rig' safety, first responder vehicle extrication demonstration, and what to do in the event of a traffic stop.