Kia Motors America Announces Pricing for Refreshed 2019 Sorento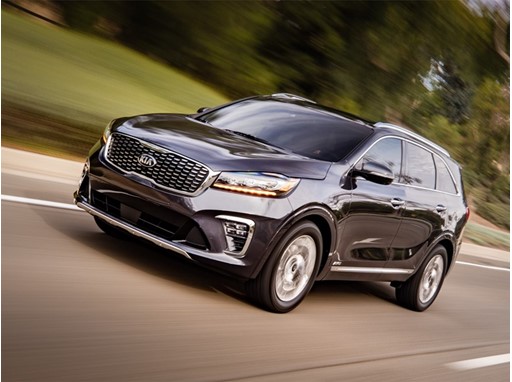 Refined and Capable SUV has a Starting MSRP of $25,990
Sorento touts a number of visual and feature enhancements over previous model year
Seven-passenger three-row seating is now standard across all trims
Sorento's available advanced AWD system delivers unexpected capability, as seen during Kia's presentation of "Hell's Gate" during the recent LA Auto Show
Kia Motors America (KMA) today announced pricing for the 2019 Sorento SUV. Offered in five trim levels – L, LX, EX, SX and SX-Limited, the Sorento is a compelling offer with its base MSRP of $25,9901 for the FWD L.  Refined and rugged, the refreshed Sorento touts a number of visual and feature enhancements, including new front and rear fascias, which help achieve a more sophisticated appearance. 
The Sorento interior is now decidedly more upscale and offers newly added technology, including available Driver Attention Warning, Lane Keeping Assist and a premium Harman Kardon surround sound audio system.  And seven-passenger three-row seating is standard across all trims.  In addition, the Sorento now pairs its available 3.3-liter V6 with a new, in-house-built eight-speed automatic transmission for an even smoother and more seamless driving experience.
Powered by a 2.4-liter inline-4 GDI, the $25,9901 2019 Sorento L comes standard with a host of technology and convenience features, but most prominently enjoys a new seven-inch touchscreen audio head unit and a revised six-speed automatic transmission. 
The more robustly equipped Sorento LX, starting at $27,490 FWD/$29,290 AWD1, benefits from the same enhancements as the L, but for those buyers desiring a greater level of performance and driving refinement, the Sorento LX V6 has a base MSRP of $31,290/$33,090 AWD1.
The FWD Sorento EX, starting at $35,590 FWD/$37,390 AWD1, builds upon the LX V6 with newly-offered projection fog lights as well as Driver Attention Warning (DAW)2 and Lane Keeping Assist (LKA)3. DAW is designed to detect when the driver's concentration has waned by monitoring vehicle and driving behavior.  If it detects driver fatigue or inattentive driving practices, the system issues visual and audible warnings, including a coffee cup icon in the instrument cluster to encourage the driver to take a break.  LKA helps alert the driver and can even steer the vehicle back to its original position should the system detect the vehicle drifting out of its lane in certain circumstances.  Optional for the Sorento EX is Parking Distance Warning – Forward (PDW-F)3, an AVN 5.0 navigation system with support for Android Auto and Apple CarPlay, and a Harman Kardon4 surround sound audio system.
Starting at $39,990 FWD/$41,790 AWD1, the Sorento SX includes all of the new features found on the EX and also offers optional LED headlights with High Beam Assist (HBA) and Low Beam Assist (LBA).  Other new standard equipment includes two-way powered lumbar support for the front passenger seat and a wireless phone charger. Parking Distance Warning – Forward (PDW-F)2, the AVN 5.0 navigation system with Android Auto6 and Apple CarPlay7, and a Harman Kardon4 surround sound audio system are all standard features on the Sorento SX.
The fully-loaded $44,690 FWD/$46,490 AWD1 Sorento SXL incorporates all of the new additions to the SX but includes LED headlights with High Beam Assist (HBA), Low Beam Assist (LBA) and LED fog lights as standard features (these are optional on Sorento SX).
A Magna Dynamax intelligent AWD system is available on any trim (except L) and features a 50/50 locking center differential and torque vectoring.  This sophisticated AWD system helped Sorento tread its way through Moab's treacherous
Hell's Revenge
– one of the most challenging and obstacle-laden off-road trails in the world.  Sorento devoured the six-and-a-half-mile rock-crawling trek including the ultimate obstacle known as Hell's Gate.