07-OCT-2015

IRVINE, California
Kia Motors America Expands Soul EV Availability to Four Additional States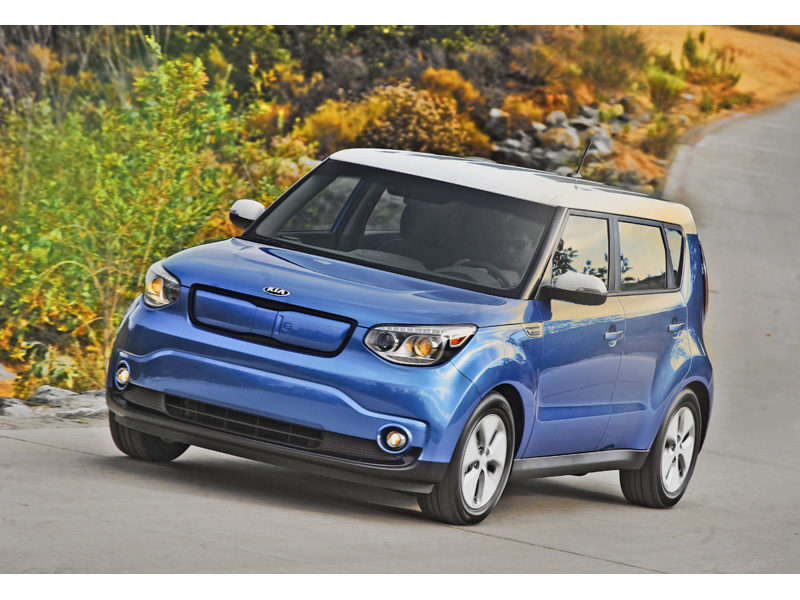 IRVINE, Calif., October 7, 2015 – Following the successful launch of the Soul EVlate last year in California, along with sales beginning in Georgia, Texas, Oregon, Washington and Hawaii earlier this year, Kia Motors America (KMA) is proud to announce it is expanding availability of its fullycharged urban runabout into four new states: New York, New Jersey, Connecticut, and Maryland. KMA's announcement will bring the total number of states selling the Soul EV to 10. Nineteen Kia dealers will be certified to sell and service the Soul EV across these four states, and customers will have access to charging stations installed at these facilities. The Soul EV will be sold in eight New York dealerships, six New Jersey dealerships, three Maryland dealerships, and two Connecticut dealerships.
"Kia's sales strategy for the Soul EV has been progressive and pragmatic since its launch late last year," said Orth Hedrick, vice president of product planning, KMA. "California consumers created a high level of demand, and the state's large infrastructure made it a natural place to start. Between consumer reaction to the Soul EV and growinginfrastructure programs in states such as these in the Northeast, this is a logical – and exciting – next step in our rollout plan."
Soul EV sales in the Northeast will begin in the fourth quarter. Soul EV owners will easily be able to locate the numerous charging stations using the standard UVO EV Services[i] telematics system. Available at no cost for the first five years of ownership, UVO EV Services utilizes an embedded connectivity solution powered by the Verizon®[ii] network and an integral smartphone app to provide Soul EV owners with an innovative, real-time, in-vehicle connectivity experience that includes navigation and a host of added convenience features.
Offered in two trims, Base and + (Plus), the 2016 Soul EV MSRP[iii] is $33,950 (not including federal tax rebate of $7,500) for the Base and $35,950 (not including federal tax rebate of $7,500) for the Plus. A lease price of $249/month for the Soul EV Base[iv] is also available.
About the 2016 Soul EV
As the centerpiece of the Kia's 'Clean Mobility' efforts, the Soul EV is the embodiment of the brand's environmentally focused mission, transforming the hip urban crossover into Kia's first mass-market, all-electric zero emissions vehicle to be sold in the U.S. Combining the iconic design of the Soul with advanced eco-friendly technology has landed the Soul EV in a class all its own. Honored with an industry-first automotive environmental validation by Underwriters Laboratory (UL) for its innovative use of bio-based materials, the Soul EV also has an EPA estimated range rating of 93 miles with an MPGe of 92 miles highway and 120 miles city for a combined fuel economy of 105 miles[v].
The Soul EV makes charging easy by plugging into any standard 120v outlet or a conventional 240v EV charger. Two charging ports are standard, including a SAE J1772 port for Level 1 and Level 2 AC, and a CHAdeMo DC fast-charging port (480v). Found behind a sliding door located in the front grille, the dual ports offer flexibility and increase the Soul EV's go-anywhere appeal, making it more convenient to charge inside the owner's garage or when on the road. Recharging times vary from 24 hours for a fully depleted battery using a standard 120v outlet and under five hours when plugged into a 240v outlet. An 80-percent charge can be achieved from empty in as little as 33 minutes with a 50 kW-output DC fast charger. Kia has partnered with three charger providers – Bosch, Leviton® and AeroVironment™ – which give Soul EV buyers an opportunity to select the unit best suited to their in-home needs.
The front-wheel-drive Soul EV is powered by a 109-hp (81.4kW) electric motor, producing a generous 210 lb.-ft. of instantaneous torque. The liquid-cooled AC synchronous permanent magnet motor uses multi-layer magnets to help improve efficiency and reduce the whine common to most electric vehicles. The motor delivers its power to the front wheels through a single-speed constant-ratio gear reduction unit. The battery pack's location beneath the floor results in a lower center of gravity, which helps ride and handling and ensures that the EV remains true to the Soul's fun-to-drive reputation. Additional cross bracing beneath the low-mounted battery contributes to a 5.9 percent improvement in torsional rigidity over the gasoline-powered Soul and offers protection to the battery.
In an effort to maximize efficiency and range, the Soul EV uses Kia's third-generation regenerative braking system to capture up to 12 percent of the car's kinetic energy, which is fed back into the battery while the Soul EV is coasting and braking. Soul EV owners can choose between four drive mode combinations: "Drive" or "Brake" modes in Eco-mode "Off," and "Drive" or "Brake" modes in Eco-mode "On" (the "Brake" or "B" setting with Eco-mode "On" producing the most regeneration).
About Kia Motors America
Kia Motors America (KMA) is the marketing and distribution arm of Kia Motors Corporation based in Seoul, South Korea. KMA proudly serves as the "Official Automotive Partner" of the NBA and LPGA and set an all-time annual sales record in 2014, surpassing the 500,000 unit mark for the third consecutive year. KMA offers a complete line of vehicles, including the rear-drive K900[vi] flagship sedan, Cadenza premium sedan, Sorento CUV, Soul urban passenger vehicle, Soul Electric Vehicle, Sportage compact CUV, Optima midsize sedan, Optima Hybrid, the Forte compact sedan, Forte5 and Forte Koup, Rio and Rio 5-door subcompacts and the Sedona midsize multi-purpose vehicle, through a network of more than 765 dealers across the United States. Kia's U.S. manufacturing plant in West Point, Georgia, builds the Optima* and Sorento* and is responsible for the creation of more than 15,000 plant and supplier jobs.
Information about KMA and its full vehicle line-up is available at www.kia.com. For media information, including photography, visit www.kiamedia.com. To receive custom email notifications for press releases the moment they are published, subscribe at www.kiamedia.com/us/en/newsalert.