Kia Motors America Launches Bot for Messenger to Introduce Consumers to the All-new Niro Hybrid Utility Vehicle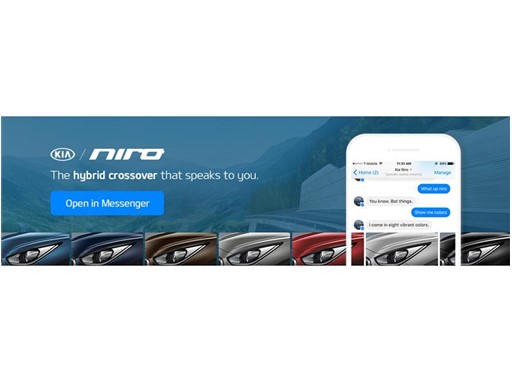 Kia is Among the First Automotive Brands in the U.S. to Utilize Facebook Messenger
Interactive Nirobot chat experience features full screen galleries, guided vehicle discovery, expansive technical knowledge, step-by-step tutorials, test drive scheduling and more
The no-compromise Niro stakes claim to a unique position between the hybrid-electric vehicle and CUV segments with a targeted 50 MPG combined[i]
Kia Motors America (KMA) today launched NiroBot, a new bot for Facebook Messenger, to deliver instant access to comprehensive product information for the all-new 2017 Niro which is scheduled to begin arriving in showrooms soon. Messenger is used by more than 1 billion consumers monthly, and those accessing the NiroBot for Messenger will benefit from comprehensive vehicle information, interior and exterior galleries, multimedia product overviews and the ability to schedule a test drive of the first Kia vehicle to make use of an all-new, dedicated eco-car platform.
A key component to Kia Motors' Green Car Roadmap, the Niro Hybrid Utility Vehicle (HUV) is the no-compromise choice that combines driving enjoyment with eye-catching design, functional utility and hybrid efficiency, thereby striking the perfect balance for today's consumers and staking claim to a unique position between the hybrid-electric vehicle and CUV segments. As part of Kia Motors EcoDynamics philosophy, the Niro represents an important next step on the path to nearly tripling the brand's global green car line-up by 2020.  A plug-in hybrid powertrain is due to be added to the car's line-up later in its life-cycle.

"The all-new Niro is like nothing else on the road today, and kicking off our pre-launch strategy by breaking new ground with our bot for Messenger that will make the new car research process much easier and more efficient for shoppers," said Kimberley Gardiner, director of marketing, KMA. "The user friendly interface combines the experience of being in a showroom with the convenience and mobility today's car buyers are looking for as users interact with the NiroBot at their own pace and focus on the specific areas that interest them most."
The NiroBot will offer real-time, interactive product modules, galleries and specifications, as well as the ability to schedule test drives in advance of the vehicle's arrival in dealerships.   
Developed and implemented by Ansible, KMA's agency partner, NiroBot features full screen galleries, guided vehicle discovery, rich product specification menus, deep linking to kia.com, expansive technical information regarding the vehicle, step-by-step tutorials and test drive scheduling calendars on an easy-to-use interface.  Additionally, the NiroBot can connect the user to a live Kia representative at any time during engagement.

"Word of mouth remains the most influential, and coveted, form of brand communication. However, when launching a car and building awareness in a crowded marketplace it's hard to achieve," said Travis Johnson, global president, Ansible. "We created the NiroBot to be everywhere our customers are – in chat platforms – and allow them to have a natural conversation about the Niro enhanced throughout by multimedia such as videos, images, links and even the ability to register for a test drive."