09-APR-2018

IRVINE, Calif.
Kia Motors America renews multi-year partnership with B.R.A.K.E.S. Teen Defensive Driving School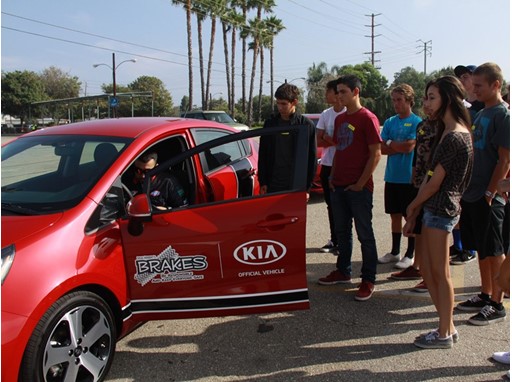 Fleet of Kia Vehicles to be Utilized for Hands-on Training Events Across the U.S.
Teens who graduate from B.R.A.K.E.S. are 64 percent less likely to be in a crash in their first three years of driving[i]
Program expected to provide training for 10,000 teens and parents at more than 30 events in 2018
Kia Soul, Forte and Rio models used for hands-on instruction as partnership enters sixth year 
Kia Motors America and B.R.A.K.E.S. (Be Responsible and Keep Everyone Safe) today announced a multi-year renewal of their partnership, coinciding with National Distracted Driving Awareness month.  Working with B.R.A.K.E.S., Kia aims to reduce injuries and save lives by providing teens and their parents with the tools they need to be responsible behind the wheel.  The unique program combines classroom instruction with hands-on-defensive driver training. 
In 2018, B.R.A.K.E.S. is scheduled to host training in Atlanta; Concord, Charlotte, and Raleigh, North Carolina; Memphis, Tennessee; Orlando, Florida; San Diego and Pomona, California; and Scottsdale, Arizona; with additional locations still to be added.  To register for a class or see the upcoming schedule, visit
www.putonthebrakes.org/2018-notification-list
.
"Car crashes are the number-one cause of death among teens, but with Kia's help, we know we're making a difference," said multi-time-Top-Fuel-drag-racing-champion-turned-road-safety-advocate Doug Herbert.  "It's impossible to know exactly how many lives our schools have saved over the last 10 years – we have trained nearly 30,000 teens plus their parents – but even if it was only one life, it would all be worth it.  We're grateful for the ongoing commitment and support from Kia, which enables us to continue making America's roads safer for everyone."
Kia serves as the Official Vehicle and a presenting sponsor of B.R.A.K.E.S.  Kia's support helps B.R.A.K.E.S. offer free training for all attendees by offsetting costs through a financial donation and a 44-vehicle fleet, including Soul, Rio and Forte models.
 "Kia Motors is committed to vehicle and road safety, and our partnership with B.R.A.K.E.S. is an important way for us to convert that commitment into action," said Saad Chehab, vice president, Marketing Communications, Kia Motors America.  "We congratulate the B.R.A.K.E.S. organization on a decade of saving lives and look forward to continuing our collaboration for years to come."
Advanced Driver Training
B.R.A.K.E.S. provides participating teens and their parents with free hands-on, advanced driver training program taught by professional instructors, including current and former members of law enforcement, professional racers and stunt drivers.  B.R.A.K.E.S. maintains a low three-to-one student-to-instructor ratio to maximize educational effectiveness.
Each school includes four hours of training, starting with a short, 45-minute classroom presentation followed by nearly three hours behind the wheel of new Kia vehicles. The program includes distracted driving awareness, panic braking, drop-wheel/off-road recovery, crash avoidance and car control/skid recovery – all among the biggest causes of crashes for new drivers.  Other educational elements often include 'Big Rig' safety, first responder vehicle extrication demonstration, and what to do in the event of a traffic stop.
=============
[i]
According to a November 2015 study conducted by Dr. Paul Friday of the University of North Carolina at Charlotte and commissioned by B.R.A.K.E.S., a sample of B.R.A.K.E.S. students who graduated between 2011 and 2014 had 64 percent fewer crashes in 2014 than non-B.R.A.K.E.S. drivers.