Kia Motors and B.R.A.K.E.S. Expand Schedule of Free Defensive Driving Classes for Teens Throughout the Midwest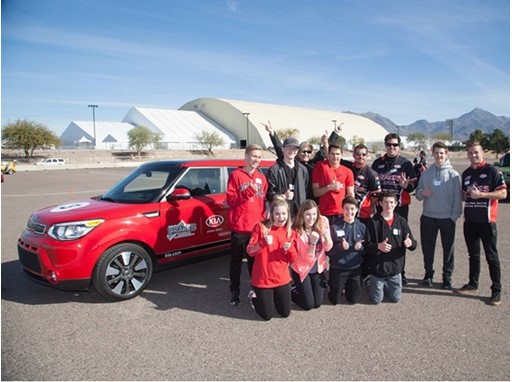 Free Advanced Driving School Utilizing a Fleet of Kia Vehicles to be Offered in Illinois, Kansas, Michigan, Minnesota, Missouri and Ohio
Interested teens and parents can learn more about upcoming events and register for a session by visiting PutOnTheBrakes.org/shop
IRVINE, Calif., July 28, 2017
– Kia Motors America and B.R.A.K.E.S. (Be Responsible and Keep Everyone Safe) are expanding both the number of locations and number of free defensive driving classes offered throughout the Midwest as part of an effort to help reduce the high rate of motor vehicle crashes involving teenage drivers. In a region with nearly two million potential new drivers between the ages of 16 and 20,[ii]
expanded B.R.A.K.E.S. training programs will be conducted beginning mid-August in major metropolitan areas encompassing the St. Louis, Minneapolis/St. Paul, Detroit, Cincinnati, Cleveland and Chicago markets. A full list of B.R.A.K.E.S. classes and dates can be found at
www.putonthebrakes.org
.
The expansion underscores the urgent need for hands-on training programs, as a recent study shows that teens who complete the B.R.A.K.E.S. program are 64 percent less likely to be involved in a crash,1 and 84 percent of B.R.A.K.E.S. graduates between 2011 and 2014 had no crashes through late 2015.[iii]

"Teen crashes are a nationwide epidemic and with the help of Kia Motors, our mission is to prevent injuries and save lives by empowering young drivers and their parents with critical lessons and hands-on experience in a safe and controlled environment," said Doug Herbert, founder of B.R.A.K.E.S. and recipient of the Peter K. O'Rourke Special Achievement Award from the Governors Highway Safety Association. "The Midwest region presents unique challenges to drivers of all ages, but especially to those less experienced. Of course, Midwest drivers will face many of the same issues that we see across the country, including all kinds of impaired and distracted driving, in addition to the threat of inclement weather. The B.R.A.K.E.S. program educates young drivers on managing potentially dangerous conditions and how to make responsible decisions that help keep everyone safe across a variety of scenarios."
Seven Midwest-based Kia Dealer Groups worked together to bring additional B.R.A.K.E.S. classes to the region, including:
· Kansas City, Lawrence, and St. Joseph Kia dealers
· Minneapolis and St. Cloud Kia dealers
· Southeast Michigan Kia Dealers
· Chicagoland and Northwest Indiana Kia Dealers
Participating teens and their parents will receive hands-on defensive driving education from B.R.A.K.E.S.' team of highly skilled professional instructors, which includes former race car drivers, stunt drivers as well as current and former law enforcement officials. Instruction, in vehicles provided by Kia, includes a distracted driving course; handling emergency braking situations by utilizing anti-lock braking systems and evasive maneuvering and skid-control practices. The program adheres to a low three-to-one, student-to-teacher ratio to ensure personal, one-on-one instruction is provided to every driver. Parents also actively participate in the courses to help ensure proper driving techniques are reinforced long-term after the training is completed.
Kia is the Official Vehicle and presenting sponsor of the B.R.A.K.E.S. Teen Pro-Active Driving School and provides a fleet of more than 40 vehicles utilized in training programs nationwide.
"Kia places a priority on vehicle safety, and our partnership with B.R.A.K.E.S. reflects that commitment, which begins with practical, hands-on driving experience," said Scott Fitzgerald, director, central region operations, Kia Motors America. "The B.R.A.K.E.S. program improves driving skills and help teens make better decisions when behind the wheel. Even if just one crash is prevented because of this, it is a huge win."
The B.R.A.K.E.S. Training Curriculum includes the following:
Crash Avoidance/Slalom: Educates students on making a split-second decision to execute a quick, evasive lane change when encountering an unexpected object without losing control of the vehicle. Students must navigate their vehicle around cones while focusing on weight transfer, hand positioning and eye scanning.
Distracted Driving: This course demonstrates the danger that cell phones, text messaging, and other distractions can pose while driving.
Drop Wheel/Off Road Recovery: The drop-wheel recovery course teaches students how to effectively recover when one or more of their wheels veers off the road surface and onto the shoulder, regaining control of the car and safely returning to the roadway.
Panic Stop: The panic-stop course instructs students on proper braking techniques to help stop a vehicle in the shortest distance possible while maintaining control. Students and their parents experience firsthand the pulsating brake pedal effects of Antilock Brake Systems (ABS) and how to control the vehicle when ABS engages.
Car Control and Recovery: Specially equipped vehicles simulate wet-road conditions. Students learn how to anticipate, react and recover from oversteer (rear wheel) skids.
Other learning experiences vary by school but can include an eye-opening view from the driver's seat of a big-rig truck with a discussion about safe zones and blind spots, as well as demonstrations from police and fire-rescue agencies.