Kia Motors Shows Basketball Fans Some Love With Free Ride Offer During NBA All-Star Weekend In New Orleans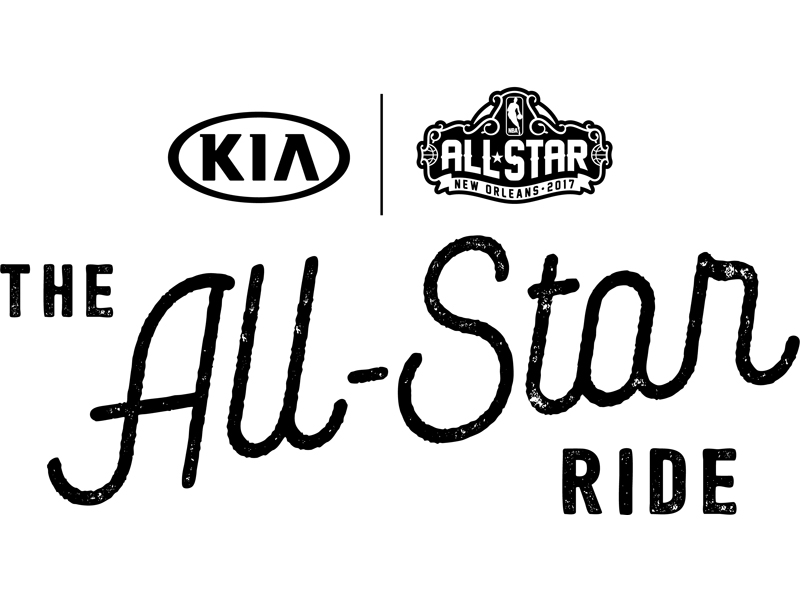 ​"Kia All-Star Ride" available Feb. 15 - 18, from 12 p.m. - 8 p.m. CT in New Orleans
Passengers simply select "Kia All-Star Ride" as the preferred vehicle1 on Uber app
IRVINE, Calif., Feb. 15, 2017 – This weekend, New Orleans will be the center of the basketball universe and Kia Motors America (KMA) – the Official Automotive Partner of the NBA – will provide a chance for free Uber rides during the NBA All-Star 2017 festivities. Dubbed "Kia All-Star Ride," a fleet of six specially-outfitted Kia vehicles will be available in New Orleans from Feb. 15 - 18, during the hours of 12 p.m. - 8 p.m. CT, and three of those vehicles – Kia Sorento SUVs – will offer passengers an interactive game, as well as the chance to meet NBA players and compete for prizes ranging from gift cards to NBA jerseys, with the ultimate prize of tickets to the NBA All-Star Game on Sunday, Feb. 19.  
To enter for an opportunity to book a free interactive, in-vehicle "Kia All-Star Ride" game experience in one of the three Sorento SUVs, passengers simply open the Uber app and follow the on screen prompts to submit an entry form. If selected, the "Kia All-Star Ride" driver will be dispatched to the passenger's location, just like any other Uber ride, with one exception: passengers will have the chance to participate in an interactive in-vehicle game.  Full details, contest rules and restrictions can be found at
t.uber.com/KiaAllStarRide
.
 "Excitement is building for NBA All-Star 2017, and a 'Kia All-Star Ride' in one of our world-class vehicles will be the most convenient, and more importantly, most fun mode of transportation for on-the-go basketball fans in New Orleans," said Kimberley Gardiner, director, marketing communications, KMA.  "This year marks Kia's 10th season in partnership with the NBA, and as we celebrate that milestone we want to thank and reward basketball fans with the chance for free, interactive rides at one of the league's signature events."
Kia is the Official Automotive Partner of NBA All-Star 2017 and the title partner of Kia NBA Tip-Off, the Kia NBA Performance Awards and the Kia NBA All-Star MVP award. For the second straight year, the Kia logo will appear on the NBA All-Star uniforms with a special patch on the upper left chest.
In addition to the "Kia All-Star Ride," there will be three 2017 Kia Optima displays showcased in New Orleans, two at the Smoothie King Center; and one "All-Star Optima" outside Harrah's Casino. Fans can take a selfie with the "All-Star Optima," post their photo and prediction of the total number of basketballs inside the custom-wrapped vehicle using #KiaAllStarContest on Instagram or Twitter for a chance to win a $2,000 shopping spree to the NBA Store.  Full details, contest rules and restrictions will be posted at Harrah's Casino near the "All-Star Optima."