Kia Racing Scores Thrilling Pirelli World Challenge Victory At Miller Motorsports Park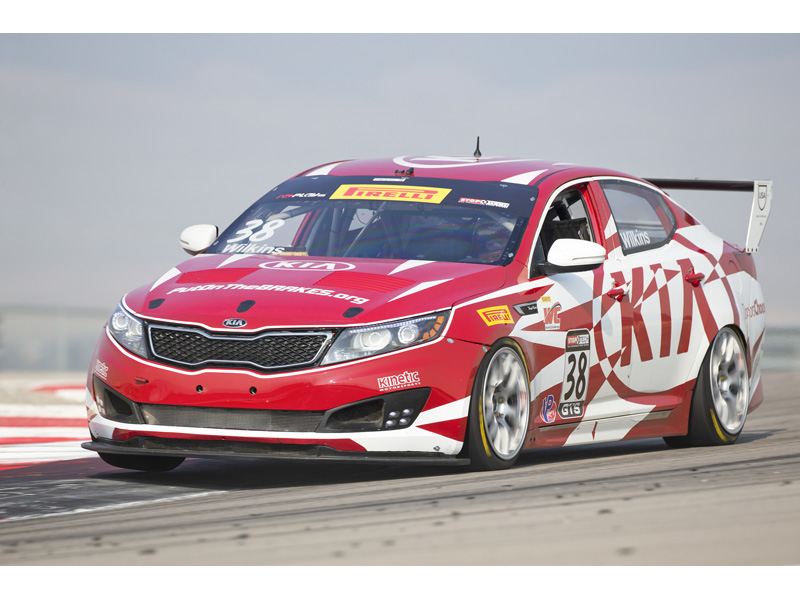 IRVINE, Calif., August 24, 2015 – Kia Racing scored a hard-fought victory and notched another podium finish during rounds 13 and 14 of the 2015 Pirelli World Challenge (PWC) season at Miller Motorsports Park (MMP) in Tooele, Utah, this past weekend. Starting from the pole for round 13 on Saturday, Kia Racing pilot Mark Wilkins, in the No. 38 B.R.A.K.E.S. Optima turbo, battled nose-to-tail with Jack Baldwin's No. 73 Porsche Cayman for most of the thrilling 50-minute contest. Through careful management of tire wear, Wilkins was able to hold off Baldwin to take the checkered flag – the first win of the 2015 season for defending PWC Grand Touring Sport (GTS) class Manufacturer Champion Kia.

"This win was huge for Kia and for Kinetic Motorsports. The Optima has always been fast, but we've been working hard this year with different car setups and race strategy, all in an effort to manage our front tire wear so we have enough traction left at the end of the race to battle with the Porsches, Mustangs and Camaros," said Wilkins, who set a new GTS lap record at MMP during qualifying with a 1:56.620 time and an average speed of 94.090 mph around the three-mile-long circuit. "I'm not sure I could've held Jack (Baldwin) off another lap. I knew he'd be strong at the end of the race like he always is, but we had just enough today to get the Optima back into victory circle where it belongs."

Kia Racing teammate Ben Clucas, in the No. 36 DonorsChoose.org Optima turbo, started Saturday's round 13 alongside Wilkins, making it an all-Kia front row as the GTS field took the green flag. Clucas battled mightily throughout the race and eventually crossed the line in fourth place for a solid top-five result.