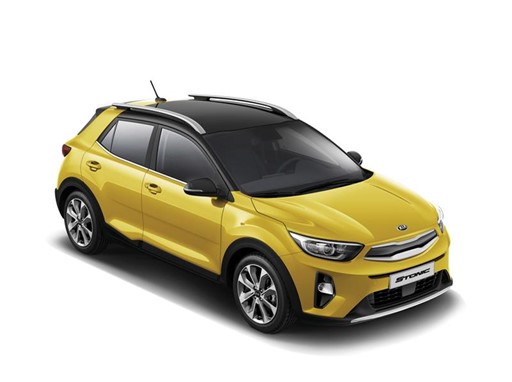 An important conquest model for Kia in a fast-growing segment
Eye-catching, confident, SUV-inspired design
Combines agile handling and a sporty ride for an exciting drive
Powered by a range of gasoline and diesel engines, including 1.0-litre T-GDI
Cabin combines style, technology and customisation options
Smart packaging for a spacious, versatile cabin
Strong, lightweight body with new driver-assistive technologies
On sale in Europe during Q3 2017
The new Kia Stonic is an eye-catching and confident compact crossover with true European design flair, and is the most customisable Kia ever, inside and out.
A range of lightweight gasoline and diesel engines are paired with manual transmissions, keeping emissions low and efficiency high. The car's ride and handling are tuned to maximise driving excitement, with steering and suspension engineered for European tastes. The car's high-strength steel platform and bodyshell ensure high levels of driving confidence and passenger comfort in all conditions.
The Kia Stonic is one of the smartest cars in its class, with a range of technologies designed to enhance handling, safety, comfort, and convenience. The car's intelligent packaging results in a spacious cabin and enables a high level of storage versatility.
The product of a close collaboration between Kia's European and Korean design studios, the Stonic will be manufactured at Kia's Sohari production facility in Korea. The car is backed by Kia's quality promise and is sold as standard with the company's unique 7-Year, 150,000 km warranty. The Stonic goes on sale across Europe during the third quarter of 2017, in a segment that is due to become one of Europe's largest in the coming years.
The B-SUV segment: Europe's largest by 2020
The Stonic will be an important conquest model for Kia in one of the newest and fastest-growing vehicle segments. The B-SUV segment currently accounts for 1.1 million new car sales in Europe each year – around 7% of the market – and is due to expand to more than two million annual sales by 2020.
"In terms of sales volumes, the B-SUV market is expected to grow to a similar size as the C-SUV segment by 2021, when more than 1 in 10 new cars sold in Europe will be from the Stonic's segment," explains Michael Cole, Chief Operating Officer of Kia Motors Europe. "The B-SUV segment attracts buyers from across the spectrum, with 21% of all customers upsizing from a B-segment supermini, and another 15% downsizing from their C-segment family hatchbacks. Cars like the Stonic also appeal to those looking to replace their compact MPVs.
"This will be one of the most compelling new cars in this rapidly-expanding class, aided by Kia's unique warranty, and the brand's reputation for reliability, quality and contemporary design. As the segment expands, the Stonic looks set to become one of our best-selling cars."