Kia Unveils its Biggest European Dealership – in London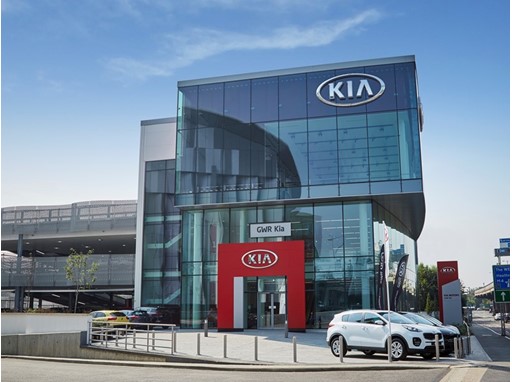 • New landmark Kia Dealer on A4 road next to M4 motorway
• Four floors and over 3,800m facility on just 4,000m of land
• Part of Kia's expansion plans in major European cities

Kia Motors has opened its biggest dealership in both the UK and Europe alongside the elevated M4 motorway which links Heathrow airport to Central London.

The flagship showroom operates on four levels including a 15-bay workshop one level below ground and the massive glass frontage faces directly on to the A4 at ground level where the new-range is displayed. The top floor alongside the elevated section of the M4 will be a brand-showcase and will feature a massive LCD display screen that will enhance the often painfully slow commute of tens of thousands of commuters who will pass the showroom daily.

Paul Philpott, President and CEO of Kia Motors (UK) Limited commented: "With more than 27 million vehicles passing this spot every year our new flagship dealership will be seen by more potential customers than any other Kia facility in Europe!"

The new building is not only spectacular to look at, it encompasses as many zero and low carbon technologies as possible to minimise its impact on its surroundings – it will deliver a reduction in CO2 of more than 30 per cent of that required by current building regulations.

European focus

The opening of the London landmark dealership symbolises Kia's ambitions on a much broader scale. Kia is setting new sales records in Europe month after month with year to date growth of 14.8% ensuring that 2016 will be the eighth consecutive year of record sales. Kia's market share has nearly doubled in that time from 1.5% to 2.9% - demonstrating the need for a larger distribution network.

Michael Cole, Chief Operating Officer of Kia Motors Europe, commented: "The opening of this flagship London dealership highlights our commitment to quality and customer satisfaction, and to expanding the capacity of our network to support our continuous sales growth. The strengthening of our brand representation in metropolitan markets is an important part of our dealer expansion and enhancement strategy – and projects similar to London are underway in many other major European cities, with very impressive new dealer facilities recently completed in both Madrid and Milan."