Steven Tyler and Emerson Fittipaldi Hit the Racetrack in Kia Motors' Super Bowl Ad for the All-New Stinger Sportback Sedan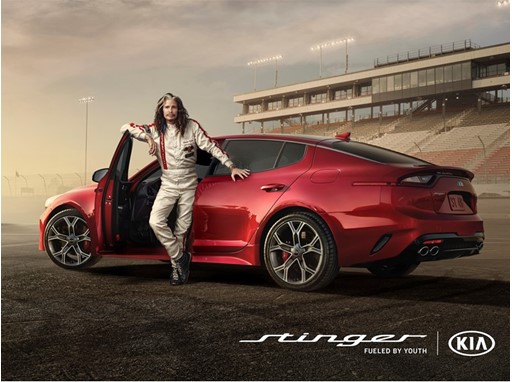 Kia's 167 MPH Stinger GT Sends the Rock & Roll Hall of Famer
on a Transformative Journey Back to the Seventies
Kia launches the "Fueled by Youth, A State of Mind" Stinger marketing campaign with 60-second ad entitled "Feel Something Again" available for viewing now at YouTube.com/Kia and scheduled to air during the third quarter of Super Bowl LII
Set to a cinematic remix of Tyler's timeless hit "Dream On," "Feel Something Again" finds the Stinger GT's 4.7-second 0-60  time being put to the test – all in reverse
With the unstoppable Steven Tyler behind the wheel, turning back the hands of time is as easy as pressing the start button in the all-new 2018 Stinger in Kia Motors' Super Bowl ad for the highest performing and most anticipated model in the company's history.
As the haunting notes of "Dream On" play backwards, two-time Formula One and Indianapolis 500 champion Emerson Fittipaldi looks on approvingly as Tyler approaches a Kia Stinger on an abandoned racetrack. Once inside, the Stinger GT's twin-turbo, 365-horsepower engine is put to use – in reverse – sending Tyler on a transformative journey back to the seventies. Working in close collaboration with Tyler, state-of-the-art video and CGI work helped bring the music industry icon's 25-year-old persona to life on the screen to stunning effect.
Designed in Frankfurt and developed on Germany's famed Nürburgring under the watchful eyes of two auto industry legends – Peter Schreyer, Kia Motors' president and chief design officer, and Albert Biermann, head of Vehicle Test and High-Performance Development – the Stinger is unlike anything seen before from the brand. Recently named "Vehicle of the Year" by Roadshow by CNET and available in both rear- and all-wheel-drive, the Stinger GT, with its twin-turbo V6, pushes the sports sedan to a top speed of 167 miles per hour and from zero to 60 miles per hour in 4.7 seconds1.
"The Stinger is the dream car driving enthusiasts have been longing for with its head-turning design, premium amenities and heart-pounding power at an incredibly value-packed price," said Saad Chehab, vice president, marketing communications, Kia Motors' America. "As one of the youngest mainstream car companies in the U.S., our youth – and the fearlessness that comes with it – is Kia's strength, and the youthful mindset we share with Steven Tyler and Emerson Fittipaldi is on full display in our Super Bowl ad."